about us
MODU is a Copenhagen-based kids' brand and system of life-size building toys designed for long-lasting play. We are a small team having fun as we work towards a world with more imagination and play in everyday life. As kids grow, our products grow with them, and we aspire to evolve along the way — both as a business and as people.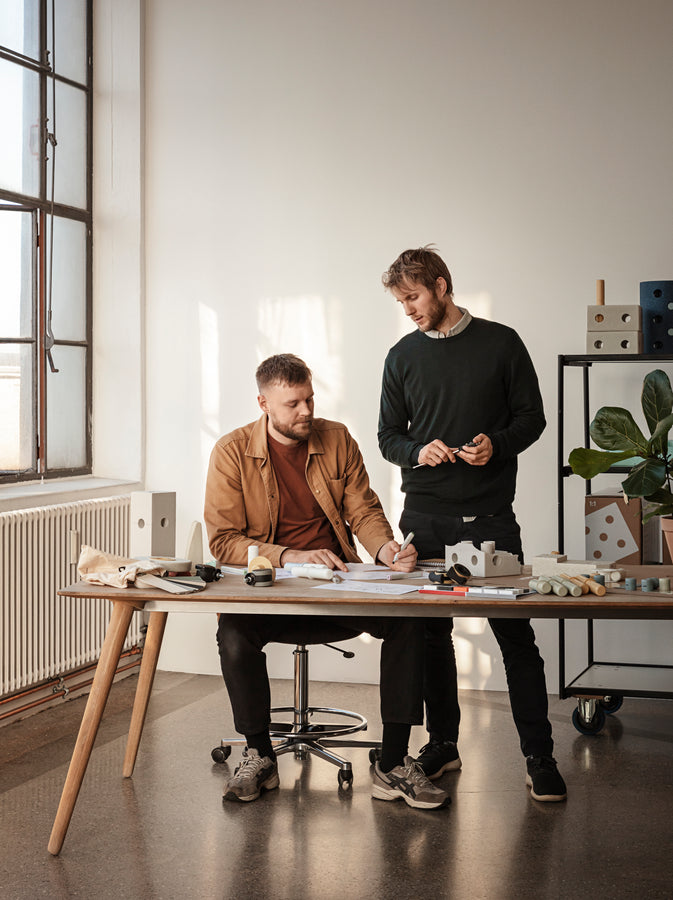 Playful Danish Design
MODU was developed on the foundation of Danish Design traditions. Quality, functionality and innovation are part of our heritage and key ingredients in how we design products.

With play at heart, we combine form and function into toys that are honest, unobtrusive and meaningful. Our base is a simple and minimalistic system that is highly adaptable to its context; its users and surroundings. This means that MODU can be used for all types of open-ended play — whether your kids are into speed, constructing, role-playing, tumbling around, or just being creative geniuses. The modular aspect allows you to shape the play experience however you like.

It's our goal to make play a central part of living but we know that toys can clash with modern decor and small living spaces. We accommodate this with a minimalistic, yet multifunctional design, that allows personal variation in look and feel. A toy that can be invited into any home and any part of the home.

We call it Playful Danish Design.
Our Vision
We dream of a future where kids develop through more imagination and open-ended, active play. Our mission is to make play central in everyday life and encourage healthy development through play. We do that with products that create space for children and families to connect and explore the natural urge to move and be creative.

We believe that play and movement fuel learning. Children learn by using their imagination and bodies to explore, discover and push boundaries, thereby acquiring new skills and knowledge. MODU is a toy that can be used for endless play and exploration. A toy for development and a toy that turns children into little problem solvers, and inspires them to grow up facing life with curiosity and great confidence in their own abilities.

We think of play as a universal language. Play enables people to enter each other's worlds across age, gender and culture. Through play, we build relationships. We learn how to communicate and work together. With MODU, we hope to connect people of all kinds – children, parents, playmates – and invite them to engage and share joyful moments together.

We care about the quality of our products. We care about the experience of our users. And we care about the environmental footprint that we leave behind. To us, this entails an on-going process of development within product innovation, material choices and production methods to provide the most fun, meaningful and sustainable play experiences. Curiosity and the quest to always do better, is the driving force behind how we grow and learn, not just as a business but also as people.
"We believe that play has the power to make the world a better place. Open-ended, active play develops children to be confident and to grow up facing life with true wonder and curiosity" — Jonathan Rasmussen, Co-Founder
Our Story
Founded in 2018 by Danish design engineers, Theo Ginman and Jonathan Rasmussen, MODU was born out of curiosity to fulfil the need for toys with greater longevity and wider appeal. Physical and cognitive changes happen very rapidly in the early years of childhood, and many toys are quickly outgrown, resulting in economic pain and environmental strain. The two designers made it their mission to develop a solution — the result was a simple system of toys with long life cycles that stay relevant across all ages, genders, cultures, homes and play worlds: MODU.

"We are proud and grateful to experience the impact of MODU all over the world — happy, creative children and parents that engage in mutual play to create memorable family moments. We will do our best to continue our journey, developing long-lasting toys for a more playful world."