sustainability
Sustainability is not only at the core of our design. We strive to ensure sustainability in every choice we make. From the materials we select, our production methods, all the way down to our packaging. To us, sustainable design is holistic design that lasts for years and continues to bring joy to future generations.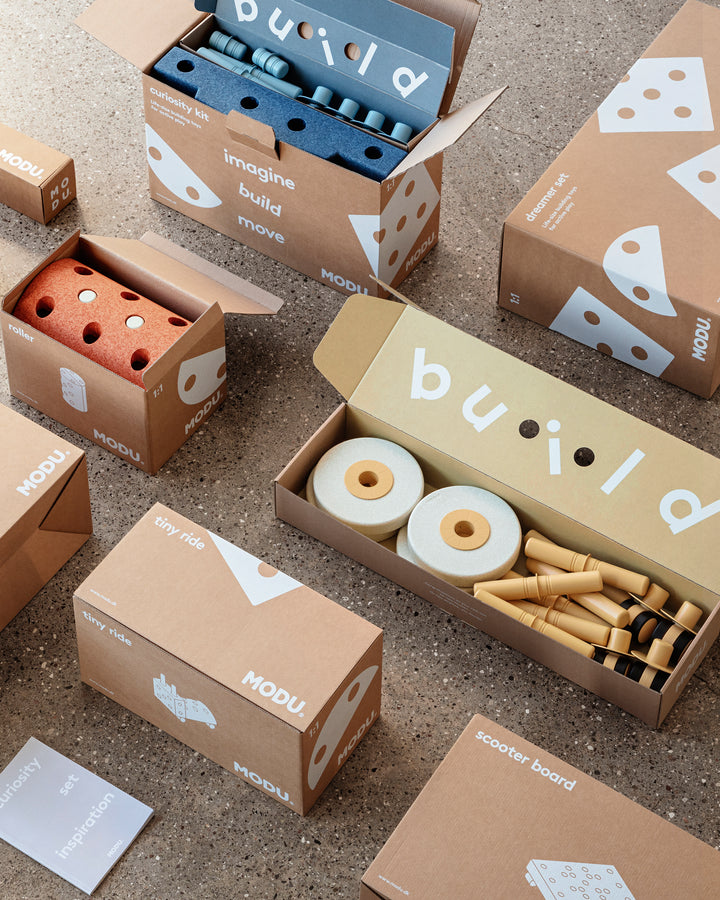 Our Concept
At MODU we design multifunctional toys that are made to last. The idea behind our concept originated from the need for a versatile, age-adapting toy. Because kids go through physical and cognitive changes very rapidly in their early years, many toys are quickly outgrown. The result is a need for several different products which can cause a lot of environmental strain.

MODU offers a more sustainable solution by providing a system of toys with a long life-cycle that is designed to support motor skill development and cognitive learning from just 6 months all the way up to 6 years... and beyond! From learning to walk and developing balance, to building your child's first ride-on and exploring creative skills. MODU remains fun and challenging all throughout childhood.

As a modular, scalable system, the functionalities of MODU can always be further developed. When one creation is outgrown, or a fun idea emerges, new creations are easily built. We like to describe it as the MODU play loop, and it is an integral part of our approach to sustainability and our circular mindset:

Imagine, build, move, imagine, build, move…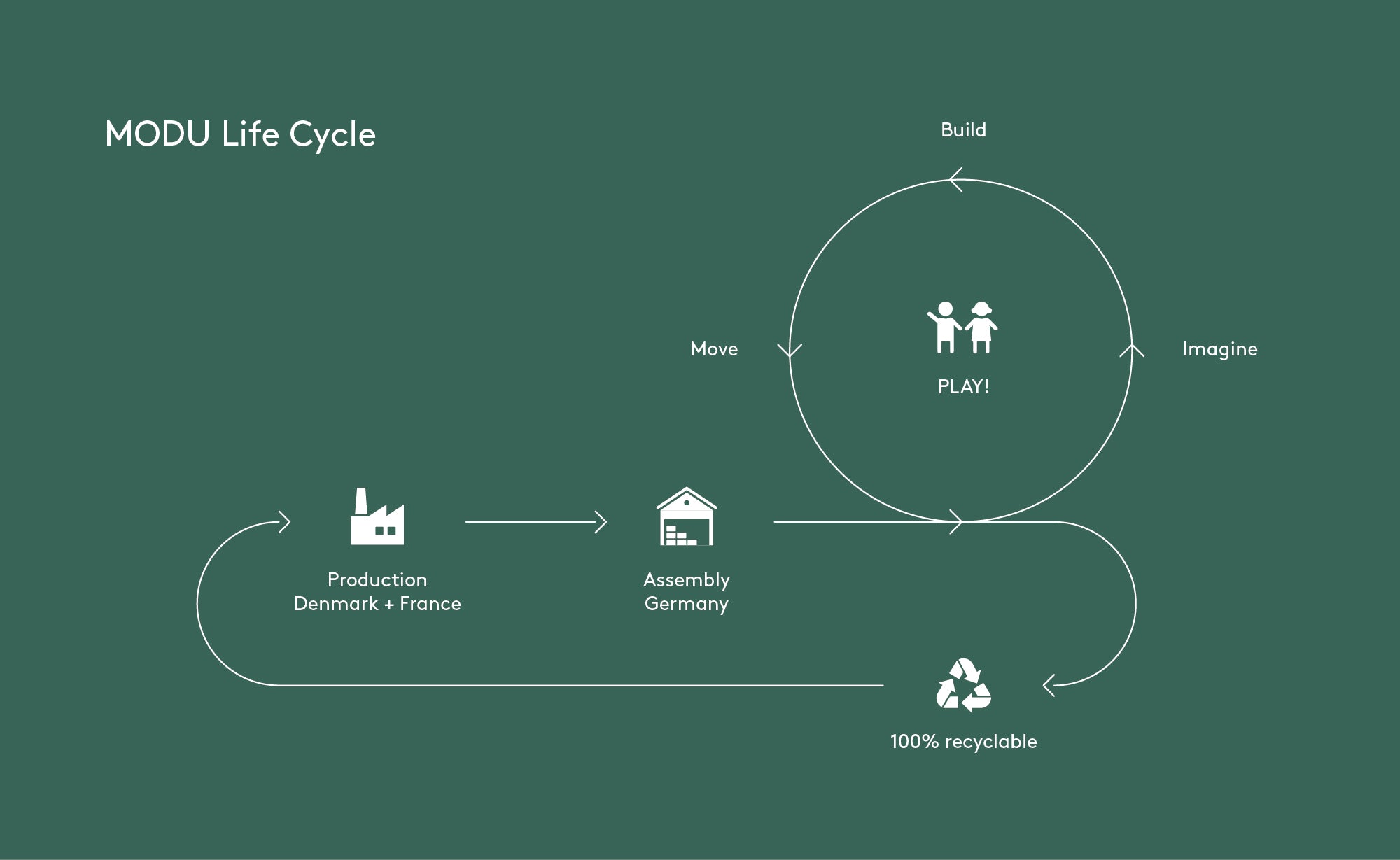 Our Production
MODU is made in Europe. Our production is located at two carefully selected manufacturing companies in Lyon, France and Odense, Denmark. Our entire production chain is centralized in Europe, which means that all materials are locally sourced to limit pollution and waste caused by transportation.

Choosing partners that honour our sustainable beliefs is important. We are proud to be working with manufacturers that are conscious of their impact and take deliberate action to limit their environmental footprint.

We care for our partners and make sure that they comply with Danish standards regarding human rights, labor laws, anti-corruption and the environment as well as our own ethical values. We visit our manufacturers regularly and use trusted agents to maintain continuous communication and uphold our high expectations for quality.
Our Materials
We work continuously to find and utilise the most environmentally- and child-friendly materials that are also durable and high in quality. All our materials are 100% recyclable and free of harmful chemicals, and our products are continuously tested and approved for children's toys by means of the European Standard for Toys — EN71.

The core of MODU, our building blocks, are made from 100% recyclable EPP foam. EPP foam is known to have a low environmental impact and to be very durable and resilient against damages, marks, dirt etc. One of the great things about this material is that it requires minimal consumption of resources in both production and processing, and it is very easy to recycle and reuse. All our EPP materials have undergone thorough life cycle assessments conducted in accordance with ISO 14040.

Our Ocean Mint colour lineup is made from 15% maritime industrial waste, such as fishing nets and ropes, which gives it its vibrant colour. By utilizing recycled content from maritime industry waste, we hope to help set the standards for sustainable material usage and design, and to relieve just a little strain on the oceans.

The connecting pegs of MODU are made from 100% recyclable ABS plastic. ABS is a very strong material with an incredibly tough impact resistance, which makes it perfect for building toys for little ones to tumble on. We use non-toxic, food-grade ABS, a commonly used material that is also known from LEGO among other toys.

A key principle of ours is to make our products easy to disassemble and recycle. That's why all our materials are mono-materials; they are composed of a single type of material instead of mixed-materials, which eases recycling. Furthermore, we have based our system on snap- and press-fit connections. By not using glue and screws, we and our customers can easily take apart faulty or broken products and use them to bring new MODU toys to life.
Our Packaging
The packaging we use plays a key role in ensuring sustainability in our production chain. Our packaging consists of FSC certified cardboard and paper, and we deliberately avoid any kind of single-use plastic. Likewise, minimal amounts of material are used to minimize waste. Thus, you will find that all MODU products are shipped in their original packaging — and the content looks very similar to a well-played game of Tetris. All to ensure efficient and compact storing and shipping.