your everyday helper
"I'd like to build the world a home, and furnish it with love", the old song goes. MODU can be toys as well as functional and fun objects to integrate into your home and daily routine. A table for breakfast. A couch for reading. A stool to reach for the toothbrush. Your everyday helper.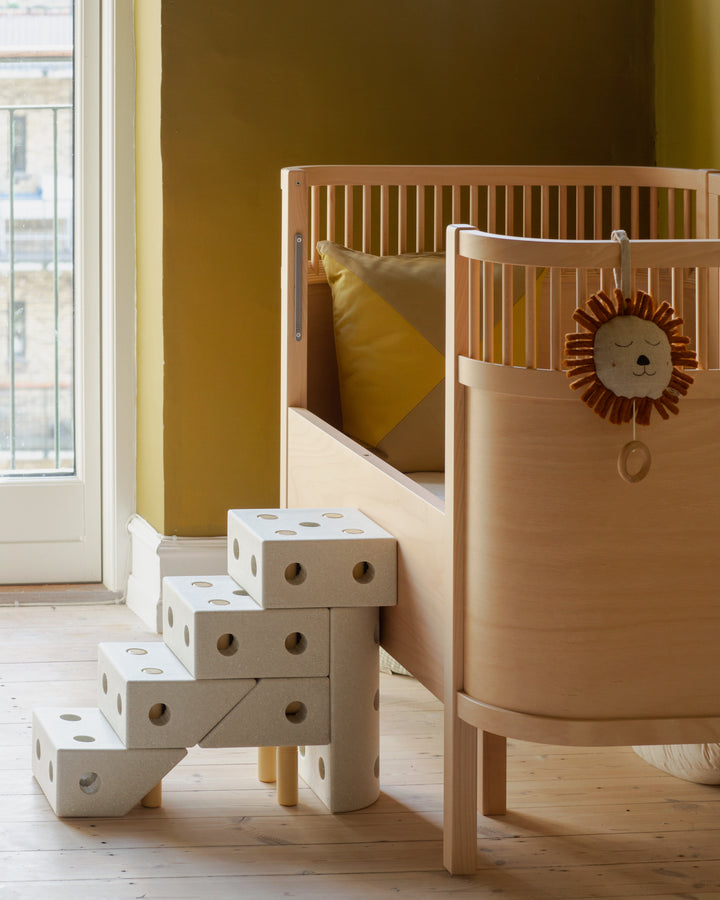 Start Your Day Off on the Right Foot
As soon as you step out of bed, MODU is there to help you start the day off on the right foot. If your little one just moved to a big kid bed, a small set of stairs can help your kid get up in the morning — and safely into bed again at night.

As parents, we all know the importance of establishing a good morning routine for our kids. A good routine can make the mornings less stressful — and might even more fun! Create a calm space and set up a little table set for your kids to enjoy their breakfast as they prepare for a new day of playing and exploring.

Whether your kids are off to school or having a stay-at-home day, the light weight and intuitive design of the MODU toy makes it easy for them to carry it around and transform into whatever they may need throughout the day.

Whether it be a play table for them to sit down with a puzzle or their favorite colourbook or a ride on for them to blow off some steam. There are lots of indoor play activities to explore. MODU is a great toy for independent play, but also a toy that kids and parents can enjoy together.
Build a Bedtime Routine
As dinner timer approaches set up a small play kitchen for the kids to have fun or build a kitchen helper stool to invite the kids to help you cook. Bring the stool with you to the bathroom to help your kids reach for the toothbrush as you continue on to your bedtime routine.


Creating a good bedtime routine cannot only help kids fall asleep but also help them sleep longer and better — and who wouldn't want that? 
Baths are a great way to wind down and ease the body after a long day and with MODU being water-resistant you can easily bring the toy with you.

If you don't have time for a bath, we all know the oldest trick in the book — pun intended. A soothing bedtime story to give your little ones something to dream about before they drift off to sleep. Build them their own little reading chair and enjoy this precious time as the day comes to an end.

Sweet dreams.