A Playful Home — Laura Takahashi
In the heart of bustling Copenhagen, Laura Takahashi resides with her partner and their lively two-year-old son, Cornelius. Working in the creative field with PR and Content Development, Laura's home stands as a testament to her ingenuity. Her colorful and spacious apartment creates an inspiring and playful atmosphere – a perfect setting to explore the creative possibilities of MODU.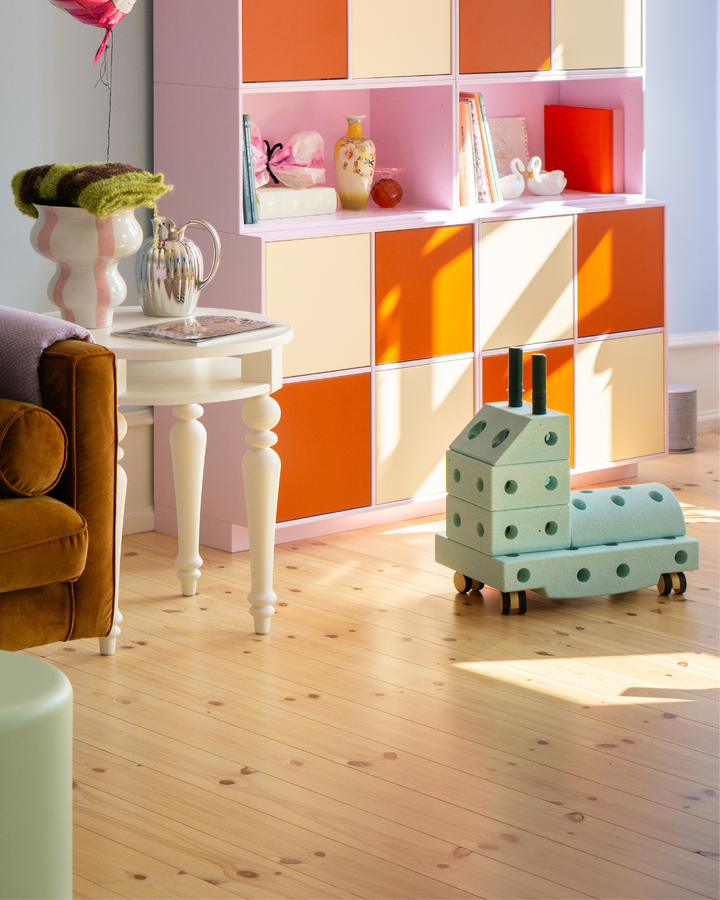 What is important to you when designing a space for you and your family?
Clearly, I like colours. It's something that comes naturally to me and ties our home together. I used to envision an entire room before decorating it, but now it's a more intuitive process. I don't have an excessive need for everything to match or go together. I believe you have to feel a space as you furnish it.
What is a 'playful' home to you?
It's very important to me that we honour the use of our belongings. I don't want to buy an expensive table if it's not allowed to be used; we'll just give it a good sanding when needed. Same goes for our couch. Cornelius loves to hang out on it, munching snacks, and it's picked up a bit of that lived-in charm, you know?
How do you incorporate play in your home decor?
We have toys roaming all around the apartment. Initially, we intended to keep them in Cornelius' room, but since the apartment is so spacious, we've created this combined office-play space. You'll also find toys lying about in other places, but I don't really mind.
How do you utilise the functionality of MODU?
We practically build something new every day. Cornelius has this doctor playset and loves to build a small table to place his teddy bear on. We've also built a chair that Cornelius used as his "throne." Right now, it's a car, and he's scooting around everywhere – in the playroom, in the kitchen. We (parents) can't resist taking a spin once in a while either.
What is your favourite way to play with MODU at the moment?
Building cars. Definitely!