5 play ideas for toddlers
Being a toddler is a journey of fun and learning. Stimulate your toddler's growth and development through play and help them build up their confidence and skill set. Here are 5 play ideas that are sure to keep your toddler entertained!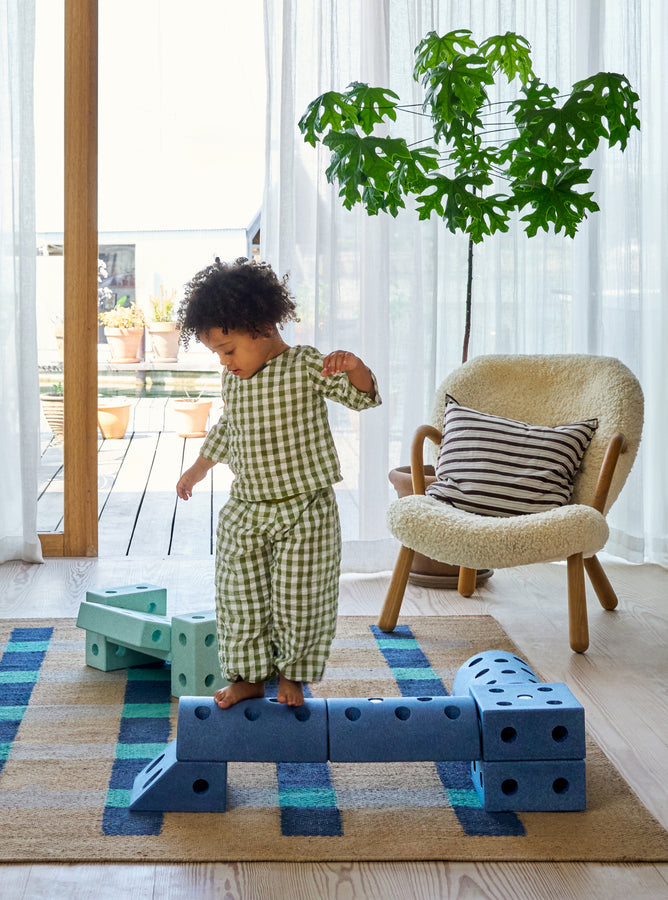 1. Balance Toys: Exercising the Mind and Body
For toddlers, the exploration of balance plays a pivotal role in fostering not only physical capabilities but also cognitive and spatial awareness. The act of balancing on toys challenges toddlers to maintain stability, which helps in developing and strengthening their core muscles and body control.

On balance toys toddlers can explore different positions — standing, sitting, and lying down. Use the MODU Explorer Set to build different types of balance toys, like a rocking horse or a balance board. The various shapes of the blocks allows you to tailor the creation to fit your child's abilities and needs.

A balance board is a fun way to exercise both balance, core strength, and coordination. Young toddlers may start by laying on their belly or sitting on their knees, shifting the weight from side to side. Help the child to stand up and support if needed until they're comfortable with the movement.
2. Ride On Toys: Boosting Toddler Development
One activity that's a surefire hit for any toddler is ride-on toys! On these toys, your toddler gets to activate the entire body and burn off some of that boundless toddler energy. As they steer, spin, and change directions, they engage a myriad of muscle groups, fostering physical strength, balance, and coordination. Riding requires your little one to stay focused and make quick decisions, promoting cognitive functions like attention span and decision-making skills.

The MODU Tiny Ride is a perfect fit for young toddlers with a need for speed. With 360° movement and floor-protecting rubber, your little one can swirl around all day. If you need something that's a bit more beginner-friendly, use the MODU Foam Wheels. The large wheels provide good stability and help your child gain a sense of speed and balance. Cruising around indoors is great practice for when the time comes for them to learn how to use a balance bike or ride a real bike.
3. Obstacle Courses: Exploring Balance and Coordination
Obstacle courses offer endless fun and variety for children of all ages. Use the MODU Blocks as stepping stones and explore the individual shapes – some are stable while others wobble and rock depending on how you place them on the floor.

Obstacle courses are a great overall exercise that is both physically and cognitively stimulating for your toddler. The ability to lift off the ground and execute controlled jumps between blocks contributes to enhanced coordination, balance and motor skills. The longer the blocks are apart, the greater the challenge! As your toddler moves across the obstacle course, their depth perception is finely tuned, and judging the distances between blocks and planning movements actively stimulate their cognitive growth.

Make small trails around the house and play around with different obstacles. Start out easy by just placing blocks on the floor and gradually introduce more complex challenges as they grow more confident. You can even up the fun by making it into a game of the Floor is Lava or Follow the Leader!
4. Life-size Creations: Igniting Imaginative Play
Engaging in imaginative play fuels toddlers' growth in numerous ways. As they immerse themselves in make-believe worlds, their creativity flourishes, paving the way for inventive thinking and problem-solving skills. Watch your toddler's imagination come to life as they build all sorts of life-size creations.

Transform the living room into a racetrack or build a play kitchen to encourage your toddler to experiment and create imaginative – and definitely tasteful – scenarios. You can even build a catapult and join them on the adventure to rescue the princess from the flaming dragon. With the MODU Dreamer Set, you can build more than 25 unique life-sized toys and creations. The set is perfect for sharing among siblings and great if you want to enjoy endless creative possibilities!
5. Everyday Helpers: Building Confidence and Support
Toddlers experience an incredible confidence boost when they conquer challenges. Build everyday helpers that aid them in reaching their goals, such as a small stool for sitting on when putting on their shoes in the morning or a set of stairs. Climbing stairs is a great overall exercise that improves both balance, coordination, and agility. The lightweight material makes it easy for your little one to move the little helpers around the house – from the kitchen, where they can help with dinner, to the bathroom for brushing their teeth before bed.